Tri-C culinary arts
students showed how delicious a little bit of ice cream and a lot of imagination can be in the finals round of the Pierre's Ice Cream Challenge, held at the Cuyahoga Community College Hospitality Management Center at Public Square.
Five finalists, students of Tri-C's Culinary Arts program, prepared and presented their desserts for critique by a panel of esteemed judges, including Tri-C East Campus President, Dr. J. Michael Thomson; Pierre's President and CEO Shelley Roth, Chef Michel Kahwagi and Chef Karen Monath. The object of the competition was to create a unique, simple dessert that could be recreated at home. The initial field was narrowed to today's finalists. Prizes were awarded at the conclusion of the competition.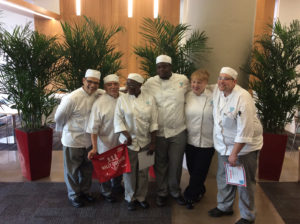 "Can You Panna Cotta", created by Mark McQueen of Cleveland, earned first place overall. The winning entry featured a layered gelatin dessert using Pierre's Lemon Sorbet and Pierre's Raspberry Sherbet topped with a fresh raspberry sauce.
"I wanted to do something you don't see with ice cream," McQueen said. "It was a challenge for me. I practiced a lot at home and it came out very good."
McQueen, currently in his second semester at Tri-C, enjoys fusion cooking the most. He plans to open his own business as a private chef and caterer upon completion of his degree.
"Can You Panna Cotta" proved unique in that he used sherbet and sorbet as ingredients in the layers of panna cotta, which has a custard-like texture and is served refrigerated.
"I went with the raspberry sherbet and lemon sorbet, but you can also use vanilla ice cream for a panna cotta,"  McQueen said.
Humberto Sanchez of Cleveland Heights earned runner-up honors with "George Washington's Cherry Tree", a cannoli filled with Pierre's Signature Cherries & Chocolate Chunks Ultimate Ice Cream, decorated with chocolate sprinkles and served with fresh cherries.
First and second place were followed by a very delicious field of finalists, including: "I'll Tumble For Ya", plantain cookie sandwiches made with Pierre's Mango Sorbet and Passion Fruit Sorbet by Angel Betancourt of Westlake; Beverly Russell of Cleveland's "π, 3.14, Pie, Any Way You Slice It", an ice cream pie with a homemade crust using Pierre's Signature Mocha Mud Pie Ultimate Ice Cream; and "Shake It Up" by Patrick Lyles of Tremont, a milkshake made with chocolate syrup, Pierre's Signature Cookie Butter Fudge Chunk Ultimate Ice Cream, Pierre's Premium Classic Vanilla Ice Cream and Pierre's Homestyle Chocolate Chip Cookie Dough.
Pierre's Ice Cream Company sincerely thanks Cuyahoga Community College Hospitality Management and Culinary Arts instructors and students for their collaborative effort in developing fun and delicious recipes using Pierre's Premium Ice Cream treats. Pierre's Ice Cream Company is especially grateful to Chef Maureen Leonard, assistant professor, and Chef Karen Monath, Associate Dean of Hospitality Management for their time, energy and expertise.
Here is McQueen's winning recipe:
Can You Panna Cotta
Pierre's Ice Cream Challenge – October 2016
Submitted by: Mark McQueen
Cuyahoga Community College
Hospitality Management Program – Culinary Arts
Yield:     4 – ¾ cup servings
Ingredients
¼ cup    Sugar
2 cups   Pierre's Lemon Sorbet or Raspberry Sherbet (any Pierre's Ice Cream will work)
1 cup     Heavy cream
1 Tbsp   Powder gelatin
Melt Pierre's sherbet in a pot and add gelatin until it is dissolved. Add sugar and place on low heat until it is just about to simmer. Warm heavy cream and add it to the mixture, stir. Strain the mixture through a chinois, or a tightly woven strainer, and pour into molds.
Place the panna cotta in refrigerator for 4 – 5 hours until they set.
Raspberry Sauce
Yield:                    about 3 cups
3 1/3 cups            Fresh or frozen raspberries
2 cups                   Powdered sugar
1 Tbsp                   Lemon juice
In a medium sauce pan bring all ingredients to a medium heat and stir often. Once the raspberries have begun to release their juices, raise the heat to a moderate high heat and simmer. Stir occasionally and heat until slightly thickened, about one minute. Strain through a fine mesh sieve and press solid to extract al liquid.
Sauce can be made ahead and be refrigerated for up to a week.