The future of Cleveland's culinary arts community showed what can be done with a little bit of ice cream and a lot of imagination in the finals round of the Pierre's Ice Cream Challenge, held at the Cuyahoga Community College Hospitality Management Center at Public Square on April 28.
Under the direction of Chef Maureen Leonard, Tri-C Culinary Arts students were invited to create an original dessert or drink recipe using any Pierre's Ice Cream frozen treat or flavor of their choice. The object of the competition was to create a unique, but simple dessert that could be recreated at home. The initial field was narrowed to five finalists.
The finalists presented their desserts for critique by a panel of esteemed judges, including Tri-C Campus President, Dr. J. Michael Thomson; Pierre's President and CEO, Shelley Roth; Zack Bruell Restaurants Pastry Chef, Mia Amidi; and Scene Magazine Dining Editor and Q-104 Food Guy, Jason Beudert.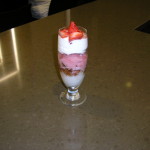 "Strawberry Lemon Sorbet Shot", created by Richard M. DiBartolomeo, Jr., earned first place overall. A delightful blend of sweet and tart flavors, DiBartolomeo's winning recipe featured a sorbet parfait with graham cracker streusel blanketed between layers of Pierre's Strawberry and Lemon Sorbets.
"Gingerbread Butter Cake," entered by Marija Apeikyte, featured Pierre's Butter Pecan Premium Ice Cream placed atop layers of buttermilk jelly, chocolate ganache and gingerbread cake.
"Popcorn Crunch," submitted by Tracie Huffman, incorporated Pierre's Signature Nun Better® Snickerdoodle topped with a homemade caramel peanut-popcorn crunch and warm, homemade fudge sauce.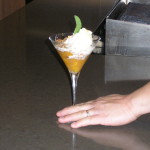 "Peaches & Cream Open-Faced Shortcake," prepared by Danita Marshall, complemented familiar flavors with a little bit of spice. Marshall topped a shortcake biscuit with Pierre's Peaches & Cream Premium Ice Cream covered with sautéed pecans, maple syrup, cayenne pepper and peach drizzle.
"Chocolate Banana Pudding," presented by Judi Williams, combined Pierre's Signature Banana Fudge Chunk, vanilla wafers and bananas covered in a rum caramel sauce.
Pierre's thanks Cuyahoga Community College Hospitality Management and Culinary Arts instructors and students for their collaborative effort in developing these fun and delicious recipes. We are especially grateful to Chefs Maureen Leonard, Ky-wai Wong, Karen Monath, Interim Associate Dean, and Brandt Evans, Executive Director, for their time, energy and expertise.