The word "vanilla" gets a bad rap: Some people use it to mean plain, normal or even boring.
Vanilla ice cream, however, is anything but boring. In fact, it's is the top-selling ice cream flavor in the United States year after year.
Sweet, Versatile Vanilla Ice Cream
What makes vanilla the rock star of ice creams? Some people say it's because vanilla ice cream is used in sundae recipes and because it goes so well with other desserts a la mode.
Maybe it's because vanilla is the base for many other popular ice cream flavors. You can't have Chocolate Chip, Moose Tracks ® or even classic ice cream sandwiches without vanilla ice cream.
Or maybe because vanilla ice cream, in all its rich and creamy splendor, is just plain delicious.
We say "all of the above." We love vanilla so much, we offer many very yummy, very different vanilla flavors:
Basic But Not Ordinary: Classic Vanilla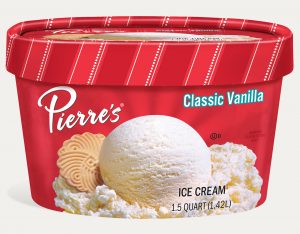 Every delightful spoonful of Pierre's Premium Classic Vanilla Ice Cream takes us back to our childhood – when a bowl of ice cream was the perfect treat on a hot summer day.
Cool, creamy and sweet, this flavor not only helps you beat the heat, but it's also the cure-all for the blues or a simple sugar craving. And nothing – nothing – makes a piece of cake, a slice of pie, or a root beer float even better like a generous scoop of Classic Vanilla.
What Makes French Vanilla Ice Cream, Well, French?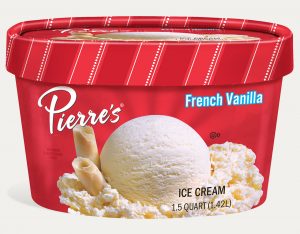 Traditionally, French vanilla ice cream involves blending egg yolks into the ice cream base for an extra rich flavor. But we take it a couple of steps further.
Pierre's Premium French Vanilla Ice Cream is an award-winning recipe that we've been churning out for more than 80 years. We use the world's finest vanilla extracts to create its signature vanilla custard taste. Is it the smoothest, creamiest, most delicious French vanilla ice cream you'll ever try? We answer with a resounding "Oui."
Vanilla Bean Ice Cream: Speck-tacular Flavor!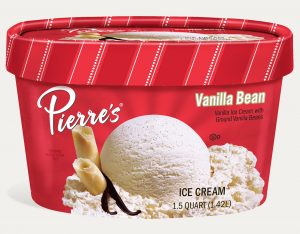 Can't get enough vanilla? Then Pierre's Premium Vanilla Bean Ice Cream is for you.
We kick our Classic Vanilla Ice Cream up a notch by adding specks of real vanilla beans into every scoop for the ultimate vanilla taste. Those tiny little specks offer big bursts of vanilla flavor.
Exquisite Vanilla Ice Cream: When Only the Finest Flavor Will Do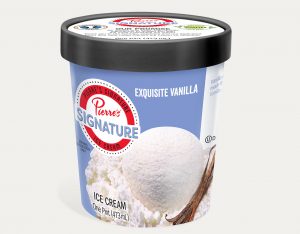 If vanilla ice cream is a rock star, then Pierre's Signature Exquisite Vanilla Ice Cream deserves a Grammy Award.
Like all Pierre's Signature Ultimate Ice Cream flavors, Exquisite Vanilla is a super-indulgent delight made with only the finest, freshest ingredients and no artificial flavors or colors. It's definitely the cream of the crop.
More Pierre's vanilla varieties: