Happy St. Patrick's Day! While you partake of feasts of corned beef and cabbage, boxty and shepherd's pie, you'll most certainly want to save room for dessert! Pierre's offers several festive flavors for this fun holiday, from Emerald Necklace to our delicious Lime Sherbet. We even created an ice cream pie special for the occasion. Sláinte!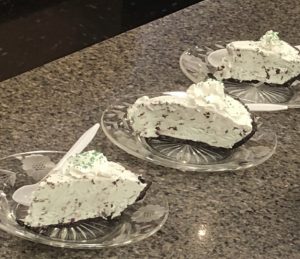 St. Patty Pie!
Ingredients:
1 – ready-made chocolate cookie pie crust
1 – 1.5 quart container of Pierre's Mint Chocolate Chip Ice Cream
Optional: Whipped cream, green sprinkles or any other festive and favorite topping
Remove ice cream from freezer; let sit for 5-to-10 minutes to soften. Scoop ice cream into crust and gently flatten and spread the ice cream until the pie shell is full. Cover with foil or plastic wrap and freeze until it is time for dessert. Remove pie from freezer; cover with whipped topping and add green sprinkles … slice, serve and enjoy!