St. Patrick's Day, created to honor Ireland's patron saint, is also a fun and festive celebration of Irish culture and food! While there is no historical proof as to whether or not St. Patrick ever enjoyed a dish of ice cream, you will most certainly find ice cream on the Emerald Isle.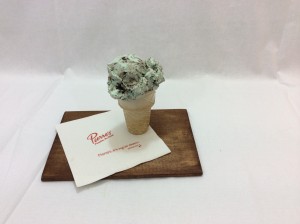 With that in mind, we picked out a few fun flavors in the spirit of St. Patrick's Day!
Emerald Necklace: While there's no place on Earth quite like the Emerald Isle, the same can be said about our local natural gem … Cleveland Metroparks! Pierre's Emerald Necklace Premium Ice Cream pays tribute to our hometown park system and celebrates the great outdoors!
Mint Chocolate Chip: Ireland is a cool place to experience … kind of like a bowl of Pierre's Mint Chocolate Chip Ice Cream.
Lime Sherbet: Like snakes, lime groves are not to be found in Ireland. However, like Irish culture, Pierre's Lime Pure Fruit Sherbet is bold and full of flavor.
Rainbow Sherbet: Legend says that at the end of a rainbow is a leprechaun's pot of gold. Perhaps that's true, but a pot of Pierre's Rainbow Sherbet would be just as nice as far as we're concerned.