It's true that ice cream makes people smile. This summer, Pierre's, the City of Cleveland and the Division of Police launch "Let's Chill Together" as a way to bring smiles to the residents and youth of our community. Pierre's has partnered by donating ice cream treats, which will be distributed around town by Cleveland police officers in their newly decorated neighborhood ice cream truck. The officers will travel to different recreation centers, pools and summer events all summer long to visit and surprise the kids with a cool treat from Pierre's!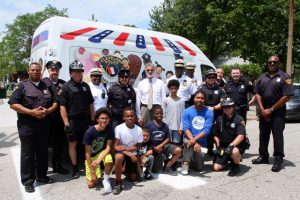 As part of the City's overall "Safe Summer 2017" campaign kickoff announced by Cleveland Mayor Frank G. Jackson, the "Let's Chill Together" ice cream truck was unveiled at the recently renovated Greenwood Park in Cleveland's Ohio City neighborhood on Saturday, June 10.
Pierre's has been a part of the Cleveland community since 1932 and is thrilled to contribute to this fun idea benefiting our neighborhood children.
Our city's kids are awesome and our safety forces are amazing! When you bring both together … and add ice cream … you have a winner!
"Let's Chill Together" and enjoy a fun, safe summer with lots of smiles!
The City of Cleveland is encouraging residents to take pictures with the "Let's Chill CLE" ice cream truck and tag the City of Cleveland on social media using #LetsChillCLE. Photos will be entered into a contest for a free lunch at City Hall with Mayor Jackson. The contest starts June 10. Valid entries must be from a resident of the City of Cleveland. Follow all of the City's summer activities on Facebook, Twitter and Instagram using #SafeSummerCLE.