CLEVELAND, OH – August 31, 2020 – Living through the COVID-19 pandemic has shown that heroism manifests in many ways, in those who place their own lives at risk for others, to everyday family, friends, neighbors and strangers selflessly looking out for each other.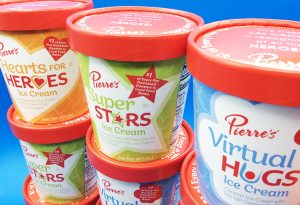 Pierre's Ice Cream Company has created a special line of ice cream pints in recognition of all heroes – everyone who has adapted, struggled, sacrificed and persevered during this challenging time – and to raise money for local food banks.
The Heroes Ice Cream Pints lineup features three delicious flavors:
Hearts for Heroes: Black raspberry ice cream with raspberry filled chocolaty hearts.
Super Stars: Vanilla ice cream with peanut butter filled chocolaty stars and peanut butter swirl.
Virtual Hugs: Caramel ice cream with sea salt caramel truffles.
Pierre's Ice Cream Company will donate $1 of every pint purchased to local food programs and the Greater Cleveland Food Bank.
"The economic impact of the pandemic has led many to seek out food assistance programs as they work to provide for themselves and their families," said Greater Cleveland Food Bank President & CEO, Kristin Warzocha. "Food banks everywhere are working tirelessly to meet this increased demand. Pierre's Heroes Pints are a fun way to not only salute our heroes but to raise funds for the Greater Cleveland Food Bank and provide for our neighbors in need."
The three new pint-sized flavors will retail for approximately $4.99 and are making their way to the following stores: Apples, Buehler's, Dave's Markets, Discount Drug Mart, D'Onofrio's Food Center, Family Foods, Giant Eagle – Northeast Ohio, Heinen's – Ohio/Illinois, IGA on Sentinel Square, Oberlin IGA, Rego's Strongsville, Sanders Market, Sapell's Bi-Rite, Schild's IGA and Zagara's Marketplace.
Simple pleasures and acts of kindness are now more meaningful than ever. To everyone helping to bring us through … we thank you.