Cleveland, OH – June 26, 2023 – Pierre's Ice Cream Company is issuing a special limited-run packaging of Spirit of America® to commemorate the recently-christened U.S. Navy Freedom-class Littoral Combat Ship, LCS 31, the future USS Cleveland.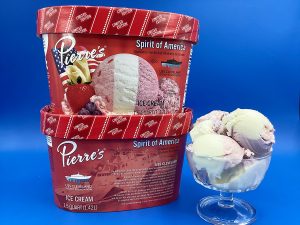 Pierre's Spirit of America® Ice Cream is a summer limited edition flavor featuring a triple combination of Strawberry, Vanilla and Blueberry Ice Creams. The flavor showcases a special new package with a brief story of the USS Cleveland and the USS Cleveland Legacy Foundation, a nonprofit organization of volunteers whose mission is to support the crew during active service and help return the ship to Cleveland upon its retirement.
"Spirit of America® celebrates our nation and all of the men and women who selflessly serve it," Matt Thornicroft, Pierre's communications manager, said. "We're thrilled to extend this honor in a very special way to the crew of LCS 31 and to help promote the efforts of the USS Cleveland Legacy Foundation."
The USS Cleveland will eventually serve as a memorial and museum honoring all four Navy ships to have carried the name Cleveland. Visit usscleveland.org to learn more about the history of USS Cleveland and the USS Cleveland Legacy Foundation.
Ice cream lovers can purchase Spirit of America® now at most stores where Pierre's limited edition flavors are sold. It's packaged in Pierre's familiar red 1.5 quart ice cream containers with the USS Cleveland Legacy Foundation logo.