It's peppermint season at Pierre's! Pierre's Peppermint Stick Ice Cream blends the perfect amount of peppermint flavor with cool and refreshing pieces of peppermint candy.
For a simple dessert idea, try this great recipe with family and friends this holiday season:
Ingredients: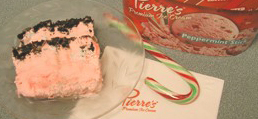 One 1.5 Quart container of Pierre's Peppermint Stick Ice Cream
Chocolate cream cookies
Remove ice cream from freezer and let it soften at room temperature for about 5-10 minutes. Do not thaw ice cream for too long or else it will crystallize when refrozen.
While ice cream is tempering, line a small loaf pan with plastic wrap. Crumble chocolate cream cookies and line the bottom of the pan with about a 1/4" thick coating. Scoop out ice cream into loaf pan and smooth it out. Cover with foil and return to freezer to harden. Keep covered until ready to serve. When ready, remove from freezer and allow yule log to temper for just a minute or two. Invert pan onto a large plate or tray. Gently remove yule log and discard plastic wrap. Slice into individual servings and enjoy!
Just for fun: Try adding an extra layer of cookie crumble to the middle by stopping halfway when filling the pan, adding crumble, and filling the rest of the pan with ice cream.