"Can You Panna Cotta" earns first-place prize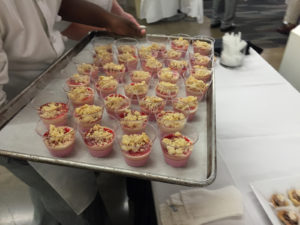 Cleveland, OH – October 20, 2016 –  Tri-C culinary arts students showed how delicious a little bit of ice cream and a lot of imagination can be in the finals round of the Pierre's Ice Cream Challenge, held at the Cuyahoga Community College Hospitality Management Center at Public Square Wednesday, October 19.
Five finalists, students of Tri-C's Culinary Arts program, prepared and presented their desserts for critique by a panel of esteemed judges, including Tri-C East Campus President, Dr. J. Michael Thomson; Pierre's President and CEO Shelley Roth, Chef Michel Kahwagi and Chef Karen Monath.
"Can You Panna Cotta", created by Mark McQueen of Cleveland, earned first place overall. The winning entry featured a layered gelatin dessert using Pierre's Lemon Sorbet and Pierre's Raspberry Sherbet topped with a fresh raspberry sauce.
Humberto Sanchez of Cleveland Heights earned runner-up honors with "George Washington's Cherry Tree", a cannoli filled with Pierre's Signature Cherries & Chocolate Chunks Ultimate Ice Cream, decorated with chocolate sprinkles and served with fresh cherries.
The winning recipes highlighted a very delicious field of finalists, including: "I'll Tumble For Ya", plantain cookie sandwiches made with Pierre's Mango Sorbet and Passion Fruit Sorbet by Angel Betancourt of Westlake; Beverly Russell of Cleveland's "π, 3.14, Pie, Any Way You Slice It", an ice cream pie with a homemade crust using Pierre's Signature Mocha Mud Pie Ultimate Ice Cream; and "Shake It Up" by Patrick Lyles of Tremont, a milkshake made with chocolate syrup, Pierre's Signature Cookie Butter Fudge Chunk Ultimate Ice Cream, Pierre's Premium Classic Vanilla Ice Cream and Pierre's Homestyle Chocolate Chip Cookie Dough.
Under the direction of Chef Maureen Leonard, Tri-C Culinary Arts students were invited to create an original dessert or drink recipe using any Pierre's Ice Cream frozen treat or flavor of their choice. The object of the competition was to create a unique, simple dessert that could be recreated at home. The initial field was narrowed to five finalists. Prizes were awarded at the conclusion of the competition.
Pierre's Ice Cream Company sincerely thanks Cuyahoga Community College Hospitality Management and Culinary Arts instructors and students for their collaborative effort in developing fun and delicious recipes using Pierre's Premium Ice Cream treats. Pierre's Ice Cream Company is especially grateful to Chef Maureen Leonard, assistant professor, and Chef Karen Monath, Associate Dean of Hospitality Management for their time, energy and expertise.