Who but a culinary artist could have dreamed a delightfully delicious marriage of salty and sweet flavors using ice cream and potato chips?
Meet Bréya Holcomb, a first-year student at the Tri-C Center for Hospitality Management and Culinary Arts and Pierre's Ice Cream Challenge finalist. Holcomb's recipe entry, Not Your Momma's Salsa, blended brownies, Snickers bars and peanut butter cups with Pierre's French Vanilla and Sea Salt Caramel Toffee Crunch Ice Creams into an amazingly delicious salsa that can be enjoyed with chocolate covered potato chips, pretzels or both!
"I've always thought about all of the different things chips could go with," Holcomb said. "Potato chips can be salty or sweet, and I tried to bounce off that and create my own salsa. It was a great way to get my hands dirty, and it tastes really nice!"
Holcomb's biggest challenge was finding the right ice cream flavors for the salsa. After considering many, she discovered a good harmony pairing French Vanilla with one of Pierre's newest flavors, Sea Salt Caramel Toffee Crunch.
"Pierre's has so many good ice creams, I wanted to find the right ones to do it justice," Holcomb said.
The key to the recipe is allowing the ice cream to soften just enough before blending. Though she originally tried to hand-mix the two flavors together, Holcomb turned to an electric mixer to blend the ice cream into the right consistency, similar to a soft serve ice cream.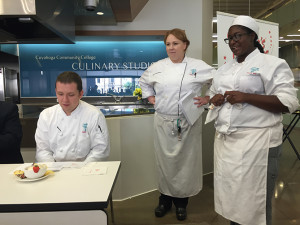 Holcomb made her own chocolate-covered potato chips for the Ice Cream Challenge. Wavy chips proved to work best in not only holding the chocolate, but in staying intact while dipping. After covering the chips in chocolate, she drizzles them with crumbled cooked bacon. For the Ice Cream Challenge, she decorated the chips with crushed nuts and colorful sprinkles.
"I tried chips without the waves with the chocolate and the ice cream," Holcomb said. The flat chips can get a little soggy and I didn't want soggy. I found the thicker the chip the better."
Holcomb has enjoyed cooking since she was a child. A lover of sweets, she hopes to someday work baking cupcakes, cookies and, perhaps, working with ice cream.
"Pastries, baking has always been a passion," she said. "Growing up in the kitchen with my parents, I would be the kid licking the bowl."
It's Not Your Momma's Salsa – Bréya Holcomb
Ingredients:
| | |
| --- | --- |
| Pierre's French Vanilla Ice Cream | 1 container, softened |
| Pierre's Sea Salt Caramel Toffee Crunch Ice Cream | 1 container, softened |
| Potato Chips | 1 large bag |
| Brownies | 1 cup, diced |
| Reese's Cups | 1 cup, diced |
| Snickers Bars | 2 large |
| Cooked Bacon | 1/8 cup (very crisp) |
| Melted Milk Chocolate | 1 cup |
 Directions:
Take ice cream out of refrigerator to soften. Melt your milk chocolate and dip your chips into the melted chocolate, coating them evenly. Set the chips aside to set up.
Combine half of the French Vanilla with half of the Sea Salt Caramel Toffee Crunch and blend together. Take all of the remaining ingredients and mix them into the ice cream mixture. Serve in a bowl with your chocolate covered chips on the side. Additional foods that are also good for this dip are pretzels, strawberries, or shortbread cookies.