Tri-C Culinary Arts student Yulanda Reeves and her delicious Lemon Raspberry Sorbet Torte earned first place in the second annual Pierre's Ice Cream Challenge, held October 12 at the Cuyahoga Community College Hospitality Management Center in Downtown Cleveland.
Under the direction of Chef Maureen Leonard, Tri-C Culinary Arts students were invited to create an original dessert or drink recipe using any Pierre's Ice Cream frozen treat or ice cream flavor of their choice. The challenge was to create a unique, simple dessert that could be recreated at home.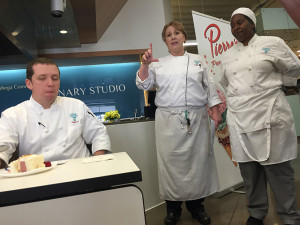 Reeves winning recipe featured layers of Pierre's Lemon and Raspberry sorbets between layers of white cake topped with lime whipped cream and raspberries. She was one of four Tri-Cs Culinary Arts students who prepared and presented their desserts for critique in front of a panel of esteemed judges that included Tri-C East Campus President, Dr. J. Michael Thomson; Pierre's President and CEO, Shelley Roth, Chef Jack Ahern and Chef Giovanna Mingrone.
Second place was awarded to Wendy Ginter for her Pumpkin Beer Float, which featured a frosted mug with a cinnamon sugar-coated rim, syrup, Pierre's Pumpkin Pie Premium Ice Cream and Guinness stout topped with whipped cream and cinnamon sugar.
Bréya Holcomb wowed the judges with It's Not Your Mama's Salsa, which featured an ice cream "salsa" made using Pierre's French Vanilla and Sea Salt Caramel Toffee Crunch Premium Ice Creams, brownies, peanut butter cups, candy bars and cooked bacon … complete with chocolate-covered potato chips for dipping.
Sweet Potato Custard Bars, by Amber West, was created using Pierre's Vanilla Bean Premium Ice Cream, fresh sweet potato puree and a homemade custard topped with crumbled corn cereal and placed fourth.
Pierre's Ice Cream Company sincerely thanks Cuyahoga Community College Hospitality Management and Culinary Arts instructors and students for their collaborative effort in developing fun and delicious recipes using Pierre's Premium Ice Cream treats. Pierre's Ice Cream Company is especially grateful to Chef Maureen Leonard, Assistant Professor, and Chef Karen Monath, Associate Dean of Hospitality Management for their time, energy and expertise.
Here is the Yulanda's winning recipe: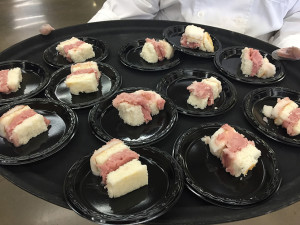 Lemon Raspberry Sorbet Torte
White Cake                                           1 box of mix
Pierre's Lemon Sorbet                        1 pint softened
Pierre's Raspberry Sorbet                  1 pint softened
Heavy Whipping Cream                     1 ½ cups
Powdered Sugar                                   ½ cup
Lime Zest                                               1 lime
Lime Juice                                             1 lime
Fresh Raspberries                                1 pint
Prepare cake mix as directed. Cut cake crosswise into two equal sections. On a serving platter place one slice of cake and spread the lemon sorbet even over the cake. Place another layer of cake on top of the sorbet and press down. Next, spread raspberry sorbet over the cake. Wrap with plastic wrap and freeze for at least two hours.
Whip the cream with the powdered sugar, lime zest, and lime juice, to stiff peaks. Remove the cake from the freezer and top with whipped cream. Slice one inch servings, plate and garnish with fresh raspberries.