The end of the year is both a chance to reflect on time gone by and an opportunity to look with anticipation to the year ahead. All of us at Pierre's are grateful to our fans, customers, partners and ice cream lovers everywhere. We wish you all a happy New Year and hope your upcoming celebration is fun, memorable and safe!
Raspberry Sherbet Smoothie
Toast to the New Year with a Pierre's Raspberry Sherbet Smoothie! It's one of many Pierre's iced drink recipes we created in 2021. It's easy to make, alcohol free and refreshing. Here's the recipe, per serving: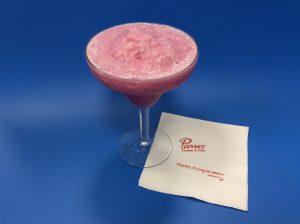 1 cup of ice
¼ quart of Pierre's Raspberry Sherbet
5 fluid ounces of lemon-lime soda
Combine all ingredients into a blender. Start at the lowest setting until they smooth, about 10-15 seconds.
Visit our web site for these and other festive holiday recipes, including … Pierre's Peppermint Ice Cream Sandwich Cake and our famous Pierre-Tini!