Pierre's Ice Cream Challenge winner, Yulanda Reeves, a second-year culinary arts student at the Cuyahoga Community College Center for Hospitality Management and Culinary Arts, follows a simple rule of thumb when creating new recipes … make them your own.
Reeves' love of raspberries and lemonade inspired her winning Lemon Raspberry Sorbet Torte recipe, a delicious dessert that features layers of white cake, Pierre's Raspberry and Lemon Sorbet, and a lime whipped cream topping.
"What I've been taught is to take a recipe and make it your own," Reeves said. "I like raspberry lemonade. The hard part was trying to figure out a way to put it together."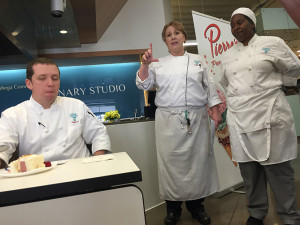 Reeves' interest in cooking started at an early age, where her first lessons in culinary arts came from her family. A mom of three, she currently works full time and attends classes at Tri-C during the evenings. Her ultimate dream is to become a pastry chef and start her own business.
"Growing up, I spent a lot of time in the kitchen with my mother and grandmother," she said. "During the holidays, we were called to the kitchen to help. They always baked from scratch. I love to cook, but I really love to bake. It just gets my creative juices flowing."
Lemon Raspberry Sorbet Torte – Yulanda Reeves
Ingredients:
| | |
| --- | --- |
| White Cake | 1 box of mix |
| Pierre's Lemon Sorbet | 1 pint softened |
| Pierre's Raspberry Sorbet | 1 pint softened |
| Heavy Whipping Cream | 1 ½ cups |
| Powdered Sugar | ½ cup |
| Lime Zest | 1 lime |
| Lime Juice | 1 lime |
| Fresh Raspberries | 1 pint |
Directions:
Prepare cake mix as directed. Cut cake crosswise into two equal sections. On a serving platter place one slice of cake and spread the lemon sorbet even over the cake. Place another layer of cake on top of the sorbet and press down. Next, spread raspberry sorbet over the cake.  Wrap with plastic wrap and freeze for at least two hours.
Whip the cream with the powdered sugar, lime zest, and lime juice, to stiff peaks. Remove the cake from the freezer and top with whipped cream. Slice one inch servings, plate and garnish with fresh raspberries.